Working on Flatiron
Working on bringing the famous Flatiron building to life.
Katz's Deli Windows Underpainting
Work in progress - Houston St view of Katz's Deli in NYC.
February Pharmacy In Progress
Most paintings, I work evenly all over but for some, I complete sections as I work. On February Pharmacy, after completing the underpainting, I finished it off from right to left.
5th Avenue Taxis Underpainting
First stage of a new, large work - 48" x 30"
Brooke By The Dock Underpainting
This is the underpainting for a 6" square wood panel.
Cogan Barn - Four States
This shows the 6" square wood panel painting at four various states of completion. The color tones vary and the warmth of the third stage was ultimately replaced by a cooler, crisper winter mood.
Underpainting of Katz's Deli Interior
Currently in progress piece.
Arriving at Coney Island Underpainting
The underpainting for one of the illustrations in The Sound of All Things.
Underpainting, Still Life With Ketchup
The gouache underpainting on a 6" square wooden panel atop my drawing table.
Sketch for Father and Son Ascending The Coaster
A concept sketch for an early piece for The Sound of All Things.
Underpainting for Brooklyn Bridge Morning
The first piece for The Sounds of All Things after completing the underpainting stage.
French Grunt Stages
This shows three stages of completion for my French Grunt (Yellow) 6" square wood panel painting, part of my Primary Fish series.
Fanelli Cafe - Four Stages
This piece came into focus nicely over roughly four stages of completion.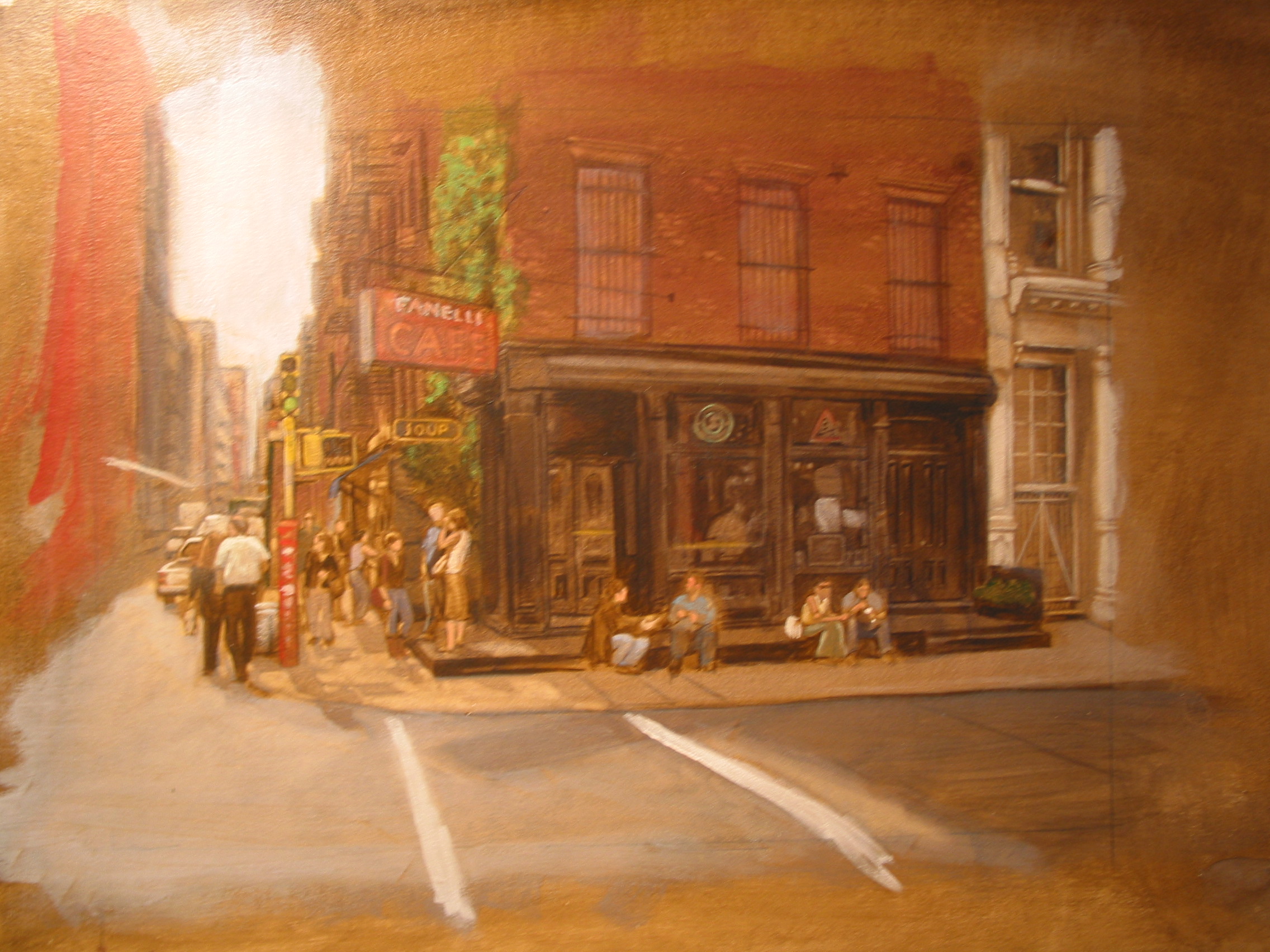 Fanelli Cafe Color Blocked
In progress, shortly after going into color.
Fireworks - Sketch
Early sketch for fireworks scene in The Sound of All Things. The decision was later made to remove the background attractions and leave just the fireworks and crowd.
Fireworks - In Progress
This was a roughed in stage sent to the publisher for any comments before proceeding to completion.
Storyboard Wall - SOAT
This was my studio wall during the sketching phase of The Sound of All Things
Sound of All Things Reference
A bunch of photos gathered while working on The Sound of All Things. The couple at the top are author Myron Uhlberg's parents.
Palette Tupperware
Color palette for a painting, kept nice and moist inside the tupperware container.
Dominica Underpainting
The underpainting stage of my Dominica painting on canvas board.
Coney Island Beach and Boardwalk Underpainting
An illustration from The Sound of All Things
Underpainting for Mother's Day at the Amusement Park
Some of the ride in the final piece is the pure underpainting showing through.
Café Moutarde Underpainting
Wood panel gouache underpainting